Episode #9 of "Becoming a post-growth planner: obstacles and challenges to changing roles and practices" with Le-Lina Kettner and Samuel Mössner (University of Münster, Germany). In conversation with Dr Christian Lamker (University of Groningen, the Netherlands).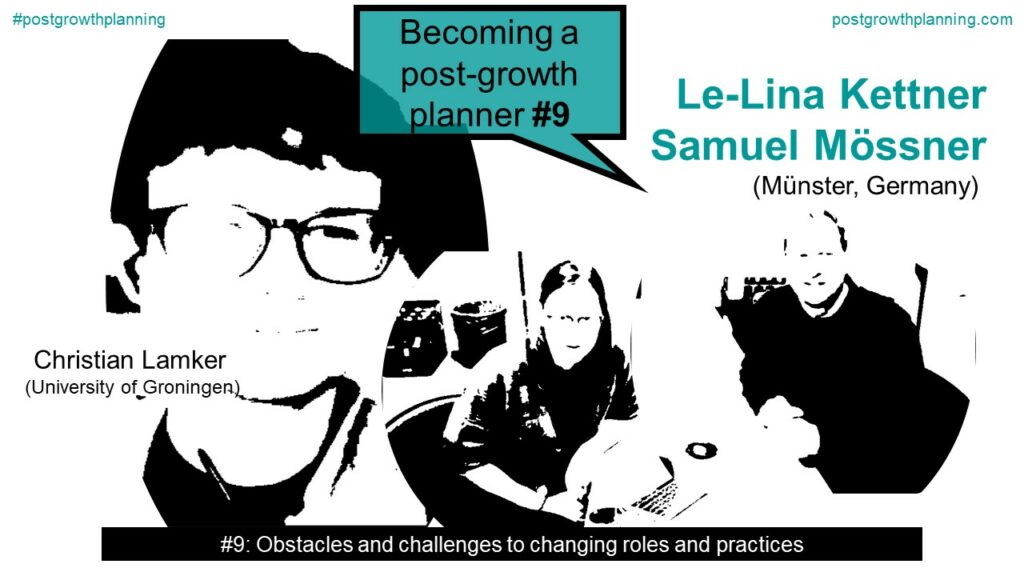 You may like to review the following works that are mentioned or related to this episode:
* CorrensLab (Münster), https://www.correnslab.de
* Kettner, L.‑L., & Mössner, S. (2021). Performing gaps. In B. Lange, M. Hülz, B. Schmid, & C. Schulz (Eds.), Post-Growth Geographies (pp. 173–188). transcript Verlag. https://doi.org/10.1515/9783839457337-012
* Kettner, L.‑L., & Mössner, S. (2020). Performing gaps – Vom Verhältnis zwischen Alternativen Ökonomien und städtischer Planung in Dortmund. In B. Lange, M. Hülz, B. Schmid, & C. Schulz (Eds.), Sozial- und Kulturgeographie: Vol. 38. Postwachstumsgeographien: Raumbezüge diverser und alternativer Ökonomien (pp. 177–192). Bielefeld: transcript Verlag.
* Krueger, R., Freytag, T., & Mössner, S. (Eds.) (2019). Adventures in sustainable urbanism. Albany: State University of New York.
* Mössner, S., & Matos, C. G. de (2019). Researching the best-practice. In M. Raco & F. Savini (Eds.), Planning and knowledge: How new forms of technocracy are shaping contemporary cities (pp. 241–254). Bristol, UK, Chicago, IL, USA: Policy Press. https://doi.org/10.2307/j.ctvkjb1z8.23
This episode is also available as an audio recording on YouTube (channel: postgrowthplanning).